Imagine dancing your first dance as husband and wife under a deep blue flowing corona of light surrounded by thousands of stars moving slowly across the ceiling and walls of your reception hall. My brand new BlissLight BL15® laser light effect brings the night sky indoors to add a whole level of "fairy tale" fantasy to your special day. This effect needs to be seen to be believed, and is included in every wedding package.

Please contact me for pricing to add this effect to other events. "Paint" the walls of your venue with colors to match your Wedding Day. With custom-designed up-lighting, you control the "color" of your room to help set the mood of the event, from static colors to match your theme, to computer controlled "chases" and "sound-active" light shows to bring your dance-floor and event to life!

Up-lighting is customized to each event and venue, and costs can vary greatly depending on the over-all effect you wish to achieve. Call me at 518-233-0915 to discuss options and pricing!
My lighting show helps to bring your party to life! I bring along lighting pieces by American DJ and Chauvet, including the Revo III by American DJ. This DMX (digitally) controlled light utilizes 392 LED bulbs to create a "fireworks-like" display on the ceiling or floor of your event venue.
While ONE Revo III is a great addition to your event, I bring up to 2 of these units for double the effect, and double the fun! Call today for more details.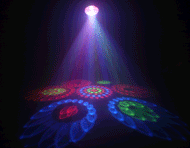 I also offer Chauvet's 4-Bar, 4-Play and Gig Bar lighting systems to offer "wash-lighting" and "moon-flower" effects similar to the Revo III and other fantastic lighting effects to bring your Celebration to a whole new level!

For more ambiance, depending on your venue, I also offer ADJ's H2O, which washes the ceilings and walls of your venue with a changing "under-water" pattern of color for truly unique effect at your celebration!

Lighting is individual to each venue, and sometimes "less is more!" We'll discuss the perfect lighting effects for YOUR event!

/